Why do we Stir Cocktails?
There has always been that phrase "shaken, not stirred." Why do we stir certain cocktails and shake others? Check out why, below. 
Stirring With a Mixing Glass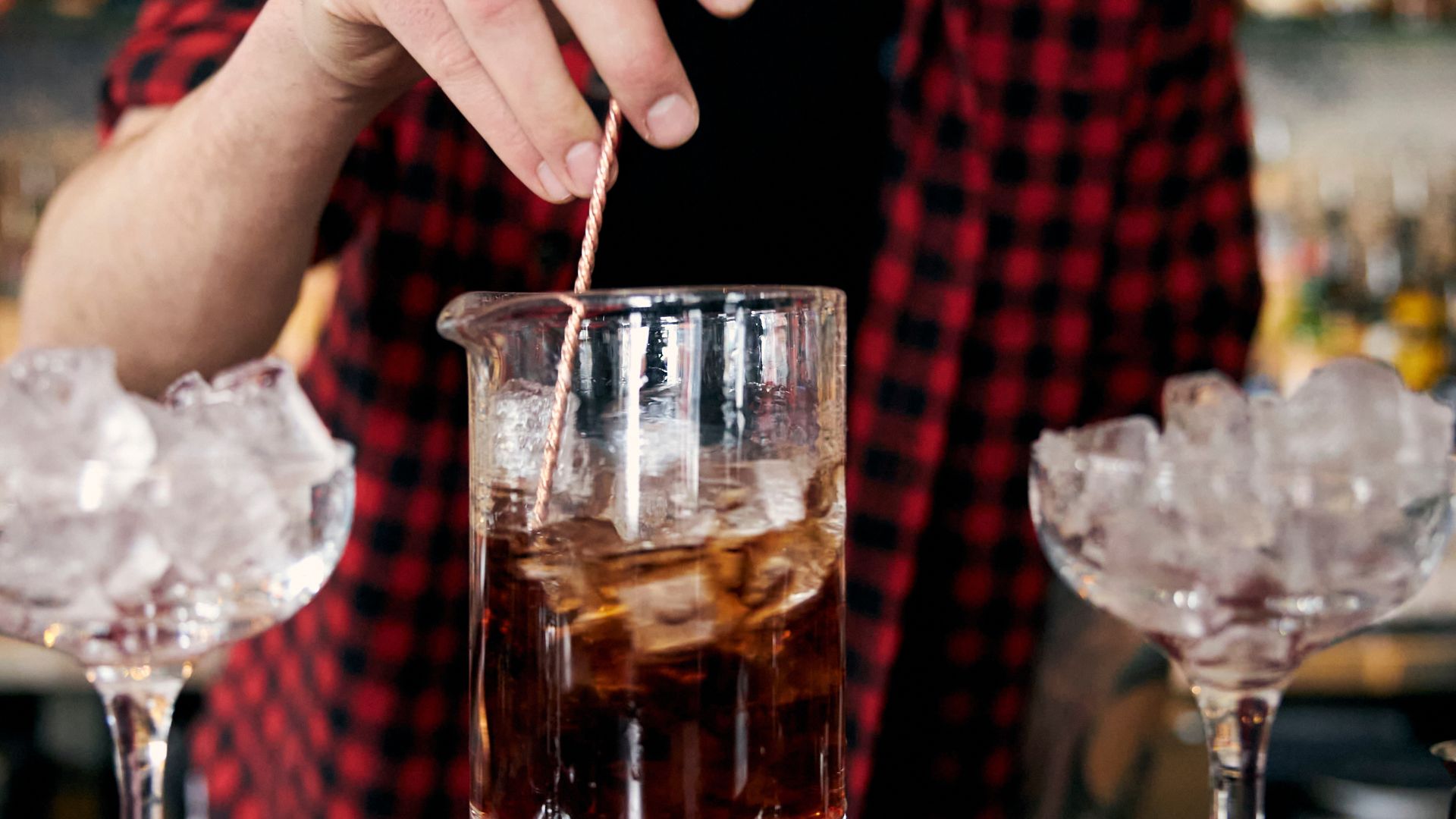 Mixing glasses are essential for people who own bar tools. When it comes to shaking a cocktail, the main benefit that comes from shaking is aeration. When you shake a cocktail, the ice violently shakes inside the shaker which ends up adding little air bubbles in the liquid. This creates a bit of a cloudy affect. On top of that, it ends up chilling the cocktail rapidly and adding a slight dilution. This can also be seen with stirring cocktails. You will see this in cocktails like Margaritas, Daiquiris, Cosmopolitans, and usually sour drinks like the Whiskey Sour. A general rule of thumb that many cocktail enthusiasts have agreed on is that if there is juice added to a cocktail, you should shake it.
Stirring cocktails is as simple as it sounds. When you stir the cocktail, it dilutes the cocktail but doesn't change the overall texture of the cocktail. Some examples of when you should stir a cocktail vs shaking it is in cocktails like Manhattans, Martinis, and Negronis. When they are almost entirely made of spirits, this is where the stirring effect will be the best impact.
Fifth & Vermouth is Canada's leading supplier of bar mixing glasses. We sell high-quality barware delivered directly to your door. Our success comes from our dedication to customer service and quality. Bar mixing glasses are necessary to make proper stirred drinks and can be found in every reputable bar on the planet. With three beautiful styles to choose from Fifth & Vermouth has you covered. Make your bar the best it can be with the help of Fifth & Vermouth. 
Our professional series bar mixing glass is perfect for bartenders or cocktail enthusiasts who stir cocktails often. With the large, heavy base, you can stir with confidence that your mixing glass won't topple due to high use. 
Made with crystal glass, this cocktail mixing glass can hold 650mL of cocktails so you can make multiple cocktails at once! We do recommend handwashing this glass. 
Our etched mixing glass has both style and function. This mixing glass goes perfectly with our Aztec rock glasses! This cocktail mixing glass can also hold 650mL of cocktails, so you can make multiple cocktails at once! The strong bottom base creates a sturdy form that can withstand quick stirring. This mixing glass is a personal favorite of bartenders and enthusiasts alike. 
Our clear glass stemmed mixing glass is engineered to withstand the repeated use of a high-volume professional bar while maintaining its unmistakable elegance. You may not see this cocktail mixing glass around too often, but with an 800mL capacity, it's perfect for mixing multiple cocktails at once. All three of our mixing glasses are durable enough to withstand quick stirring, and muddling when preparing a cocktail. 
Mixing & Stirring Action!