Created at the Pendennis Club in Louisville Kentucky by resident bartender Martin Cuneo, the Old Fashioned cocktail recipe has been a classic favourite since the late 1880s. Cuneo made the drink for a local distiller, James E. Pepper, who later brought the cocktail recipe to New York. There, it made it into the Old Waldorf Bar Days in 1931.
However, the true origins of the Old Fashioned might go even further back. A cocktail called the Old Fashioned Holland Gin was found in a book published in 1862 titled Jerry Thomas's Bartenders Guide: How To Mix Drinks. This recipe is similar to the Old Fashioned we know and love today, but using Holland Gin instead of whiskey. It's possible that this cocktail may have been the inspiration for the cocktail created in Louisville 20 years later. Whichever origin story rings true, one thing for certain is that the Old Fashioned has solidified its place in cocktail culture. Today, it's one of the most prolific drinks that exists!
The Old Fashioned is a perfect example of beauty in simplicity, combining sugar, bitters, and whiskey. It's a versatile cocktail, and almost every bartender will have their own tweaks to make. For those looking to add a spin to the classic cocktail, here are some fun substitutions that can be made to riff on this old favourite.
---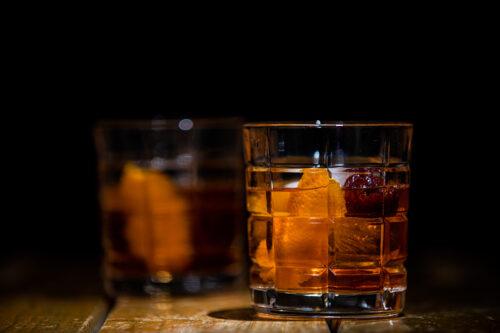 Tequila Old Fashioned Cocktail Recipe
2oz Reposado Tequila
5oz agave syrup
3 dashes Bittermen's Mole Bitters
Orange twist for garnish
The barrel aging in a Reposado Tequila gives the depth of flavor you'd want in this cocktail. Añejo Tequila also works as well if you prefer. While you can choose a regular simple syrup, agave syrup works best as it pairs nicely with the tequila. The mole bitters add a unique and spicy kick to the cocktail!
Add the tequila, agave syrup, and bitters into a rocks glass. Stir gently to combine before adding ice and stirring again. Garnish with a twist of orange and enjoy!
Gin Old Fashioned Cocktail Recipe
2oz Gin (a nice floral gin works well with this)
5oz St. Germain Elderflower Liqueur
2 dashes orange bitters
Lemon twist for garnish
This refreshing and floral take on an Old Fashioned is perfect for those looking for a lighter option or for a summer sipper! Combine gin, St. Germain Liqueur, and orange bitters in a rocks glass. Stir to combine, add ice, and stir again. Garnish with a lemon peel and it's ready to go!
Rum Old Fashioned Cocktail Recipe
2oz Amber Rum ( we enjoy the Plantation 5 Year)
5oz Demerara syrup
3 dashes bittered sling plum and root beer bitters
Orange twist for garnish
Rum replaces the classic whiskey in this riff. If you can find Demerara sugar, the added depth makes for a perfect and simple syrup. Just combine equal parts Demerara sugar and water in a pot and heat slowly while stirring until the sugar dissolves completely. You can save the syrup for future cocktails by storing it in a jar in the fridge as well!
To make this drink, combine the rum, syrup, and bitters in a rocks glass. Stir to combine, add ice, and stir again. Garnish with an orange peel and enjoy!
---
Whether you're looking to make classic cocktails or unique combinations of your own, Fifth & Vermouth has everything you need to make sure you can do so with a touch of class! With our quality barware, glassware, bitters, and syrups, we have all you need to keep your bar stocked and beautiful. Have any questions or looking for some tips? Get in touch with us today!